There is a Mandela Inside Us All — Tomorrow's Leader is You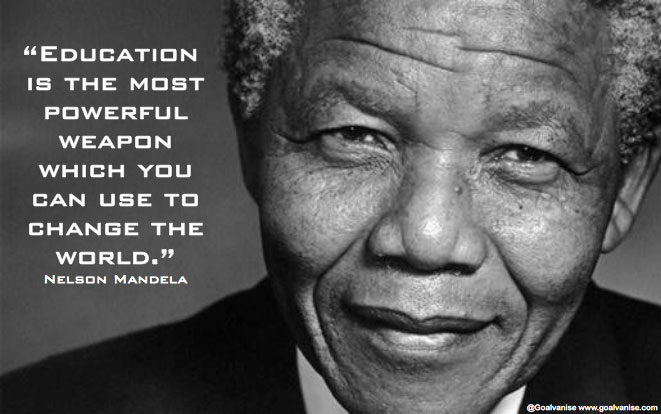 Being successful is not easy, being a leader is not easy, and not getting torn down by negative friends or the media is even harder. My coaches have always told me that there is a lot of room at the top, but it's the bottom that's crowded. We have two choices in life, we can either live in an ocean of sameness or a lake of differentiation. The world, your country, and even your local community hungers for the next leader and after reading this article I am hoping it will be you. Being a leader is not easy and no one has been a better example of what a leader should exemplify than Nelson Mandela. A man who didn't only inspire a country but a global world and the minds, hearts, and souls of billions. So what does it take to be a leader? Here are 5 transformational lessons that can turn you into the next leader
Dreams vs. Visions
Dreams are things you hope you will achieve, a vision is something you will actually achieve. To many, dreams mean hoping things will happen and I am sorry to say. but dreams don't come true.  Having a vision is what comes together.  Our generation is filled with people sitting around dreaming of the possibilities rather than taking action on them. The idea of the law of attraction is that if you dream it will come true is not only misleading but is poising the minds of our youth. Rather we should teach people as I do, the law of taking action. Action is not something you say but rather something you do. So get off your ASSETS and make something happen. Leaders ooze action, they move mountains, plow through oceans and refuse to take no. They don't sit on the couch waiting for the world to come to them.
Short Term Sacrifice
Leaders know that one of they key ingredients to success is short term sacrifices for long term success. I have never had a drink, I have never smoked, or have done drugs in my life. I don't judge or condemned anyone who does but it is a choice I made.  I remember how many of my friends pressured me to do stuff saying to me "you only live once" and I "should at least try it once". It was not easy but I resisted.  I had a vision.  I was very very broke and I wanted to be someone, I wanted to change the world and that couldn't happen if my mind was altered in anyway or I was at parties until 4am and hung-over in the morning. Ironically all of those people now in their 30's are still trying to find the meaning of life and all want to work for me or teach them what I did. Resist temptation, stay strong because the sacrifices you make now will bear fruit for the rest of your life. Everyone needs to sacrifices something. If Mandela can sacrifice 27 years of his life for the greater good of South Africa, I am sure you can lay off the parties and all other temptations.
Gut based Decisions
Every leader makes decisions fast. There are 3 ways to think… mind, heart and gut. The more you think about doing something the more reasons you are going to find on why not to do it.  That is called analysis by paralysis. This often is the killer of many great leaders and entrepreneurs.  The second way is to think with the heart. Those tend to be emotional decisions not driven by any logic or reason but something that is often hard to describe. Many people have been burned doing this. The last way is gut decisions.  8 out of 10 times when you make a decision with your gut you are right but once it comes through our brains and hearts that is when things start becoming cloudy. So the lesson here is to make decisions on the spot and then you can re-evaluate it but entrepreneurs don't say I have to think about it, they make a decision and then they re-evaluate it.
Disrupt or be Disrupted
Leaders disrupt because they continually innovate. If you are not innovating, if you don't keep asking yourself how do I cut through the clutter, and how do I differentiate myself…  there is very little chance you will ever succeed and even less become a leader. Remember how you change is how you succeed and if you don't you will never truly live the life you want and you deserve. Remember there is someone behind you who is looking at taking your place in the market.
Forgiveness and Giving
Nelson Mandela spent 27 years in a prison for something he didn't do and when he came out the first thing he did was forgive the person that had put him there. The world is such a mean and cold place at times filled with haters, backstabbers, liars, terrorist and wars.  It is seeing through that and trying to make a difference that is often very difficult but a great leader cannot hold grudges.  A leader has to be better than his detractors and has to dig deep down and think of the greater good. I have never met Nelson Mandela but working with his foundation and holding in my hand some of his handwritten letters he wrote in jail and his Nobel Peace Prize gave me chills. There is so much you and I can learn from this man.
In the end there is a Mandela inside us all.  At first it starts with those around us and great leadership is something that is contagious and spreads for the greater good of us all. But in the end if it was not for my coaches I wouldn't even be writing this article because there is no manual on how to be a great leader but rather great people we look up too, emulate, and try to do it our own way. I salute you because I know deep down you are the next leader, I believe in you.
JT Foxx
World's # 1 Business Wealth Coach
www.jtfoxxlive.com