Results Rule: Proven Success Time and Time Again

I get so many emails and messages with people telling me how much success they have after attending one of my events, and how I am continuing to change lives all over the world. I wanted to share a few of them below.
For more success stories like these visit jtfoxxsuccessstories.com and if you want to tell me about your success story send me a message on Facebook or go to jtfoxxcoachingsuccess.com pick your country, and submit your story!
I want you be next! Visit jtfoxxlive.com to attend one of my events and become a success story!
Are you ready for YOUR success?
– JT Foxx
"Hey JT you like hearing from us, so here's my update. I started implementing the learnings taken from your last visit to SA. Since taking action I not only got my one person, one opportunity, one deal… I got 3!!!! I want to thank you again for being a life changer and a true game player. What you teach really works!!! My business is going national in less than 2 weeks. prior to the weekend with you and friends I wasn't able to make it happen. I will look forward to the day when I can join your family and work with your coaches to be coached to potential….. whoooohaaaa!"
– Shaun Wiegand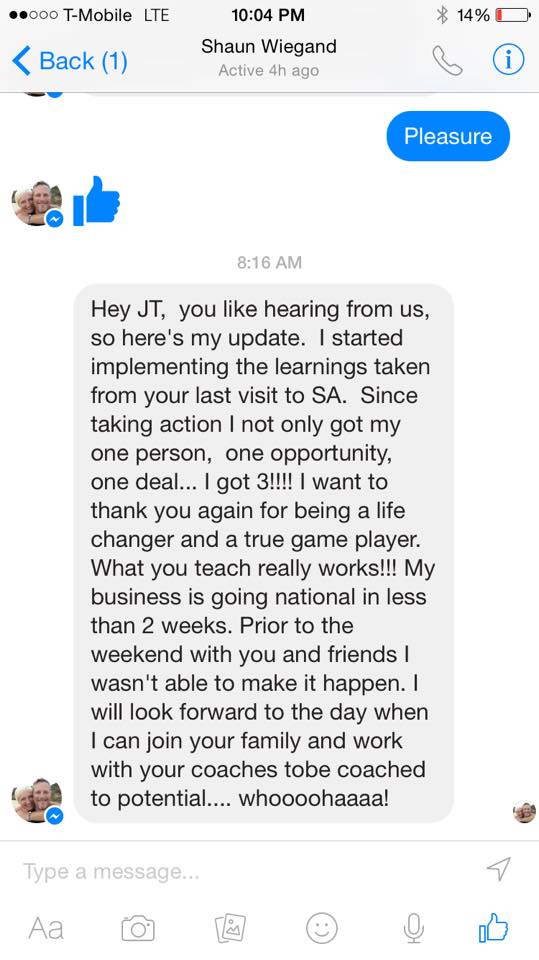 ---
"Firstly I'd really like to thank you for today's seminar. It was different and a first time experience for me. I left feeling empowered and goal driven and for the first time I felt that I CAN! I feel so blessed to have been in your presence even if it was just for a day. I know the task was to write an inspirational message however, you have inspired me beyond words and I'm so thankful that your advertisement popped up on my homepage because this is more than what I bargained for almost feeling like however Charlie might have felt when he found the golden ticket in the wonka bar. Thank you I look forward to tomorrow."
– Shazia Mahomed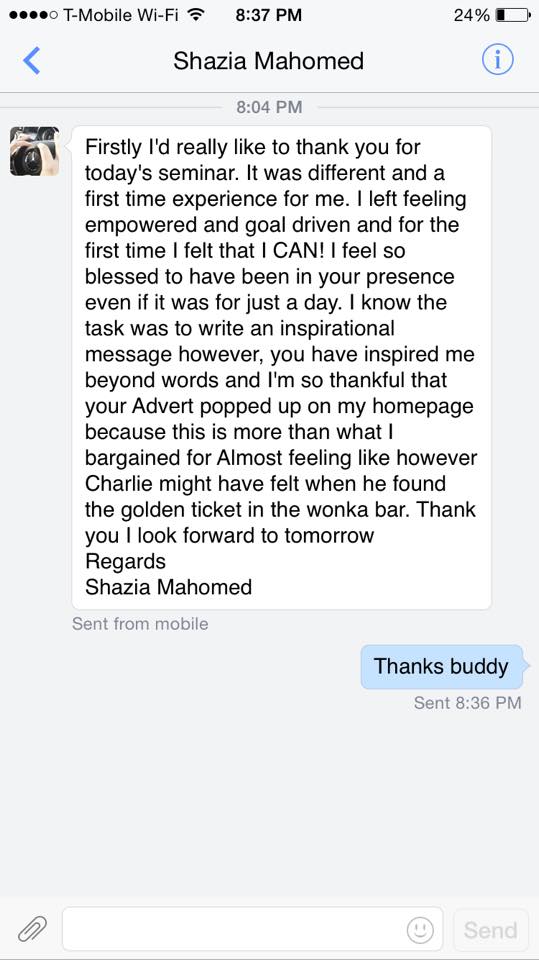 ---
"JT Foxx, today I cried!!!! I am a teacher by profession for the last year and I am starting from scratch, financially. The reason why I cried is of what you did today as a wealth coach. JT Foxx you have always been a front row JT Foxx, BUT today you have became a back row JT Foxx and this has broken down a lot of barriers more than you realized. Based on the back row JT Foxx I am taking out a loan to be on a program sooner than I planned. lol I guess you are going to say who cares I am a millionaire!! What does her opinion count! lol But I am grassroots level and that should count!!! lol Can't wait for tomorrow! Have to mark learners books tonight, before I go to sleep, so I can be free for tomorrow. See you tomorrow if God spares me. thank you so much for investing your time, resources, and energy in South Africa. We do appreciate it."
– Catherine Hendricks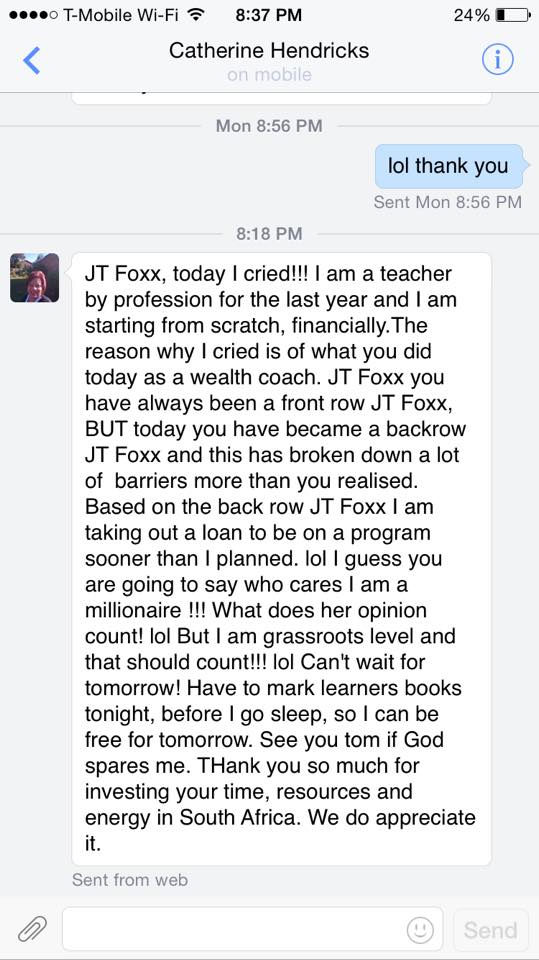 ---
"Another super event with practical inspiring content JT! What helped me today was the aspect of creating and building a culture of intrapreneurs in your business. Another important take for me was the reminder to be transformational and not transactional in approaching sales and marketing. It was great being in the same room as George Ross and hearing how Donald Trump put together his first deal at the age of 27. A pretty complex deal too! Well done and looking forward to an awesome day tomorrow!"
– Jan Rautenbach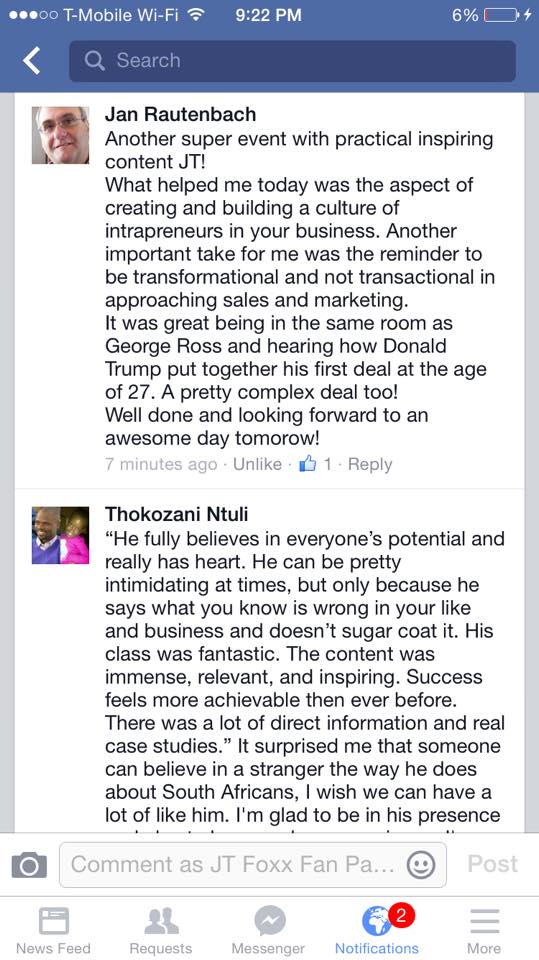 ---
"He fully believes in everyone's potential and really has heart. he can be pretty intimidating at times, but only because he says what you know is wrong in your life and business and doesn't sugar coat it. His class was fantastic. The content was immense, relevant, and inspiring. Success feels more achievable than ever before. There was a lot of direct information and real case studies. It surprised me that someone can believe in a stranger the way he does about South Africans, i wish we can have a lot of people like him. I'm glad to be in his presence and also to have such an experience. I'm now a millionaire in the making and thanks to his teachings and beliefs. God bless Foxx."
– Thokozani Ntuli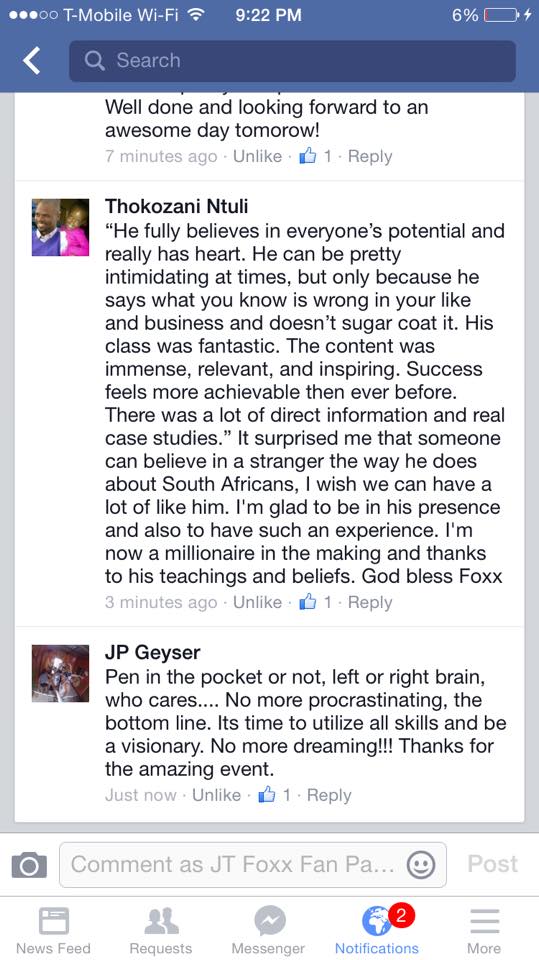 ---
"Life after attending seminars hosted by JT Foxx will never be the same, even when you are clued up about business you learn something new or the knowledge you have in enhanced. My name is Elton I'm 21 and today was my first seminar. Before I can say anything about business JT gave me solid inner assurance that my mindset, personality & vision are on the right track. Its like he knows what everyone is about or should be about. he shows you how simple & effortless being in business is while earning a huge reward at the same time. He teaches you how to be sharp in all aspects of business, your lifestyle and to overcome your weaknesses. My biggest weakness was not taking action but after listening to him speak made me realize that I'm sitting on top of gold and I won't be able to see that unless I take action. I learned that knowledge is not power if you don't know what to do with it and how to use it in the right way. he's a business rock star."
– Elton Mofokeng